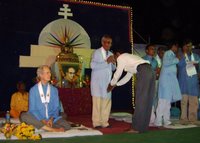 In Amaravati, a city in the very centre of India some 100 miles from Nagpur, a month-long programme is underway of Dhamma talks in a wide range of villages and towns in the surrounding area. The organisers estimate that the public talks, in towns large and small in the Amaravati region, will reach an estimated 15,000 people directly and many thousands more indirectly.
Ashvajit, a UK Order Member, is taking part, and has sent FWBO News links to his Picasa photos:
Click here for a
slideshow of one of the talks
in Badnera and here for photos of their
celebration of Ambedkar Dhammachakra Pravartan
– Dr. Ambedkar's conversion to Buddhism on October 14th. . There's some of Ashvajit himself going a
talk in Amaravati
.
The programme culminates with a week-long retreat starting on October 24th, which will be led by a team of 25 Order Members from the Amaravati area including Amaravati's Chairwoman Dhammacharini Jayamani.
Organisers of the programme have been vigorously fundraising for some months now and are still appealing for funds. They have done really well, raising almost £5,000 online and a lot more from local door-to-door collections in India. However they are looking for a final £2,000 to fully balance their books - you can contribute on-line using their Justgiving page
www.justgiving.com/ashvajit
.
TBMSG Amaravati do many things besides big Dhamma programmes - the
TBMSG Amaravati annual report
for the 2007-8 year is available on-line. It gives a fascinating glimpse into some of the challenges faced by India's Dalits - and the vigour and creativirty with which they are facing them.
Labels: Amaravati, Dharmaduta, India