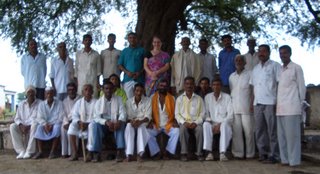 October 14th is the anniversary of Dr. Ambedkar's conversion to Buddhism 52 years ago. Although much has changed in India since then, many things have not – among them the economic struggles faced daily by many of India's 'low-caste' and 'ex-untouchable' people.
Dr Samantha Bhaware, a Dhammamitra from the FWBO's
Llangollen Sangha
, has spent the last 9 months out in India. During this time, she has come face-to-face with a difficult national crisis – vast numbers of farmer suicides due to problems with Genetically Modified crops and chemical agriculture.
She reports –
"These are creating debt, crop failures and environmental damage in an already harsh farming environment. Between 2001 and 2005, it was estimated that over 32,000 farmers committed suicide in India for these reasons and it continues every day.
"When faced with such a difficult situation, it could have been easy to turn away and think it simply "isn't my problem". Seeing these suicides happening, with government aid not reaching these desperate farmers, I couldn't ignore such suffering, so I decided to help them in whatever way that I could.
"So, my husband, Manidhamma, and I visited Mohadi, his ancestral village in rural Vidarbha, an area of Maharashtra worst hit by the suicides. We spoke to his childhood friends who have very little farmland – mostly no more than 10 acres – to support their whole family. They spoke of fear and confusion following pressure by foreign multinational companies to buy seeds and chemicals to grow crops that are failing. They can see that these methods are killing the land, but feel they have little option but to farm in this way.
"I offered to come and talk about my interests –
Permaculture
(a sustainable agriculture design method), natural farming (inspired by
Masanobu Fukuoka
's work) and organic farming – to help them find an alternative to methods that are clearly not working. Masanobu Fukuoka was a Japanese Zen Buddhist and his methods closely follow Buddhist ethics, especially of non-harm. I am therefore very inspired by his work.
"On 14th September, we held a workshop in Mohadi, which was attended by over 60 locals. Many farmers were sceptical, which we expected, and were worried about losing whatever little income they have. However, by the end of the day, 15 farmers were keen to experiment on a part of their land. We held a follow-up workshop on 28th of September to provide much needed initial support. Many more farmers are now hoping to try these methods too.
"Adopting these methods will help farmers gain independence and self-respect. I am confident that the methods will work and that they will soon reap the benefits of an enriched, living soil and freedom from debt. This view is also held by the
Maharashtra Organic Farming Federation
, with whom I am working for support and inspiration. I am continuing to work with this village and hope to extend out to other villages. Everywhere we go, farmers want to learn about these techniques; we already have two more villages waiting for workshops. I feel very inspired by this work as it will give these people immediate benefits and is giving them hope in a situation which is worsening by the day".
Samantha is setting up a Centre for Non-Violent Farming to help facilitate such projects and to carry out research to further help the farmers. Initially, she is creating a travelling library to help farmers educate themselves about sustainable farming alternatives. She is also arranging visits for the farmers to farms that have successfully used these methods. She hopes that people can come to help teach and empower villagers, as well as to help on practical projects, such as tree planting and farm work. If you are interested in this work, she would very much like to hear from you. Samantha can be contacted by
email
.
Links:
Vidarbha Suicides:
http://www.thesouthasian.org/archives/2007/70_farmer_suicides_in_vidarbha_1.html
http://www.dnaindia.com/report.asp?NewsID=1049554
Government Report on Suicides:
http://www.yashada.org/organisation/FarmersSuicideExcerpts.pdf
The
Centre for Non-Violent Farming
- note that this website is still under construction. Bookmark it now, visit later!
Labels: Ambedkar, Dharmaduta, engaged buddhism, India