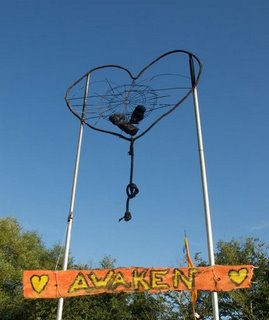 Buddhafield East
is a network of FWBO practitioners living around the East of England – Colchester, Ipswich, Norwich, Cambridge, and elsewhere across East Anglia. Following Buddhafield's lead, they're inspired by the same approach to practice – closeness to nature, simple living, an imaginative approach to ritual, and the creation of "a positive sphere of influence" - which they hope will continue to grow, unfold and develop.
Teresa Coldicott from Norwich reports on their Summer Gathering –
"Flags flew, people danced and meditated, Padmavajra gave three amazing talks and 120 of us had a wonderful time in the Suffolk countryside over the August Bank Holiday weekend. This was our fifth year and fourth gathering, and was very special for me, as so many of us from the Norwich sangha were there.
"The days began with meditation in the Rainbow tent, a real country experience hearing rooks in the trees and machines harvesting grain in the nearby fields. This was followed by breakfast and a work period when vegetables and firewood were chopped, compost toilets were cleaned and hurricane lamps collected from round the field. Then there were the talks from Padmavajra, incredibly inspiring on the theme of the Confident Heart, followed by discussion groups.

"The meals were excellent, sitting round the fire or on cushions in the dining tent, chatting with friends as we fended off the wasps – in a very mettaful way of course…
"Afternoons had many & varied workshops. A highlight was Jnanamitra's kiln, built on site from earth & straw cob, filled with pots & sculptures, looking like an old fashioned steam engine as it was fired up with huge bellows and smoke poured out of its hat chimney. Capoeira and volleyball kept us active, energy and yoga workshops together with a Healing Space kept us well. There was space for creativity or just sitting by the fire chatting or reading.
"After supper each evening there was story telling, then a ritual around the theme with a puja to follow, then sauna & hot tubs for those who wanted them, followed by music round the fire & being curled up in bed in tent or van to sleep soundly till the cock crowed in the morning".
2008 has been their best year yet, with a real strengthening of their network across East Anglia. You won't just find them in a field though - they're pretty up-to-date technically, and probably have more web presences than any other FWBO!
There's a beautiful new Buddhafield East website at
http://buddhafieldeast.com
and you can find them on
Facebook
,
Picasa
,
MySpace
, and finally it's possible to join their on-line message list by
emailing them
.
In the wider Buddhafield family, Buddhafield North also have a website - see
www.buddhafieldnorth.org.uk
, and rumours are reaching us that Buddhafield's own web presence
www.buddhafield.com
may get an overhaul soon!
Labels: Buddhafield, Dharmaduta