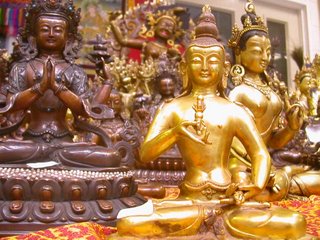 No 3 in our weekly series showcasing websites created by members of the Western Buddhist Order features
Buddhist Images
.
Buddhist Images is an on-line shop run by Dhiramati, an Order Member from Manchester UK – but a regular traveller to Nepal where he buys his fine quality Buddhist statues (rupas), Buddhist paintings (thangkas) and Buddhist ritual items of all sorts.
Dhiramati takes particular pride in his relationships with the local craftspeople and their families - most of whom run fairly small scale family operations that have been handed down generation to generation.
On the website (besides the shopping opportunity it affords!) there's a video showing how the thangka paintings are made; and step-by-step guides to the making of the metal or wooden statues (rupas) – the raw copper being poured into clay moulds, and then worked on until the figure is finally painted carefully by hand; the wood slowly moving through stages from tree trunk to Buddha….
Due to the close relationship with the artisans themselves, Dhiramati is able to say "If you don't see what you are looking for please
contact us
and we can advise - we have many happy customers who have used us to source something special or have something made to order."
Buddhist Images
: a great resource for all Buddhists.
The photograph shows some of Dhiramati's stock on display at an Order Convention.
Next week we'll feature Sagaravajra and his Buddhist Sanctuary site, a virtual guide to his real-life "woodland sanctuary to the goddess Prajnaparamita".