Akasadaka, an Order Member from the FWBO's Sudarshanaloka retreat centre, high in the Coromandel Mountains of New Zealand, writes to say -
"Buddhafield is manifesting deep in the South Pacific in the land of the Kiwi.
Our mission is to build up a community of like-minded Dharma practitioners and create the first ever Buddhafield Festival down under. It's going to be an organic process thing!
"We are currently based at Sudarshanaloka in the Coromandel Ranges. Every year we attend Prana Festival so plan if you can to come, it's 5 days of good people, good food and good vibes.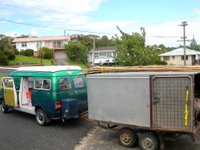 "Recent News? Well, preparation for Prana is well under way, Jayaghosa has been working hard along with the help of Matt and Rosie. We have a full program of workshops planned, as well as Dharmamudra coming to lead Taiji. There'll be space for Dharmavaca (Dharma Discussion) in the evenings".
He ends by saying "If you are coming do not forget to bring a costume for New Years Eve, theme is masquerade but don't let that stop you from going a bit mental..."
You can
contact Buddhafield New Zealand
here - or find them on Facebook – go look for
Buddhafield NZ
.
The Buddhafield 'family' now includes
Buddhafield
itself;
Buddhafield North
,
Buddhafield East
, and more – on the web there's distant fond memories of a
Buddhafield Ireland
… All share a love of Buddhist practice in the natural world; all delight in the magic that happens when like-minded people come together – and all are willing to put in the hard work it takes to make something happen out-of-doors…
Labels: Buddhafield, Dharmaduta, festival, New Zealand