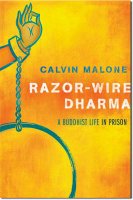 Priyamitra, an Order Member from Spokane, Washington, USA, has written to FWBO News to say –
"One of the prisoners I've had the pleasure of practicing with for a number of years has just had a book published.
"Calvin Malone practiced for more than a dozen years with the "Gateless Sangha", a Buddhist practice group at Airway Heights Corrections Center, the largest prison in the Washington penitentiary system. Razor-Wire Dharma recounts Calvin's life in prison, his turning to the Buddha-Dharma, and ways that his life, and the lives of those around him, have changed through his going for refuge to the Three Jewels.
"Each chapter tells of an event common to life in prison life; each illustrates how his practice has been challenged and grown through living out the Buddha's teaching. These are very personal tales he tells, full of real suffering, real people, and real transformation.
"Until this past June Calvin was a cornerstone of the Gateless Sangha. He was then transferred to another prison, initially leaving the Sangha somewhat at a loss - over the years he had encouraged, guided, coaxed, and supported a huge number of inmates as they struggled to find some peace in the hell-realm that prison can seem.
"Prison is a fearful place. Shakyamuni's exclamation that 'Friendship is the whole of the spiritual life' rings true in Razor-Wire Dharma. Calvin learned the power of friendship from his teachers, one of whom was Aryadaka – another Order Member, who died five years ago. My entry into prison Dharma teaching was similarly through a friendship with Aryadaka.
"Both Calvin and Aryadaka have gone; I'm left to practice with the Gateless Sangha in their absence, and every week I practice with them I experience this friendship with my razor-wire Dharma brothers. As the Gateless Sangha continues without Calvin, its members are finding that they are able to pass on to new-comers the guidance and friendship that they received from him".
Razor-Wire Dharma
has just been released by Wisdom Publications.