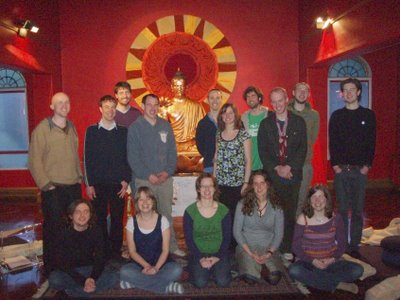 Kev from the FWBO's Birmingham Buddhist Centre sends us this report:
"We recently hosted a 'Day for Young Buddhists' in Birmingham. And what a fantastic day it was - people travelled from as far as Norwich and Leeds for what turned out to be a vibrant and inspiring gathering.
"The day began with a dedication ceremony and meditation, followed by four short talks by young people in the Sangha on the subject of 'What inspires me'. From this simple brief came four very rousing and inspiring talks.
"The afternoon was left as open space for people to explore what was of particular interest to them at the time; this included discussion groups, 5 rhythms dancing, and drumming in the garden. This was all rounded off with a Bodhicaryavatara Puja to finish. A great day, and we've another event for young Buddhists on the cards for the summer".
To help people contact one another, there's a Facebook group "
Young People in the FWBO
"; this now includes a Calendar of events especially recommended for young Buddhists. It currently has 109 members from all over the world.
Next up is a similar day event for young people in Brighton, scheduled for 26 April.
Labels: Birmingham, Youth