Mostly FWBO News is about exactly that – news of the FWBO. However the FWBO is but a small part of the much larger wider Buddhist world; and today we bring you news of a few upcoming events from it. They're interesting as all three point to the increasing influence of Buddhism in the cultural life of the West.
Coming up soon is a major exhibition and programme of events at London's V&A Museum. "The Many Faces of Buddhism" is a season of arts and cultural events presented in London by The Robert H. N. Ho Family Foundation. Starting on Saturday 25 April it will see artists from around the world taking part in an international forum at the V&A. This aims to "Investigate the ways in which contemporary art practice resonates with Buddhist thought ", including an exploration of the use of the mind in the process of creation and perception; the role of Buddhism in the modernist impulse to integrate art and life; artists whose work is linked with their own Buddhist practice; artists whose work reflects the themes of Buddhism; and the potential of Buddhist theories for the teaching and presentation of art.
The forum will bring together four distinguished international artists: Lin Hwai Min, choreographer and founder of Cloud Gate Dance Theatre in Taiwan; Meredith Monk, internationally acclaimed composer, singer and choreographer of new opera; Sanford Biggers, multi-media African-American artist who fuses aspects of Buddhism with global pop culture; and Kimsooja, South Korean artist who addresses issues of the displaced self through performance, video and installation.
More details at
www.vam.ac.uk
.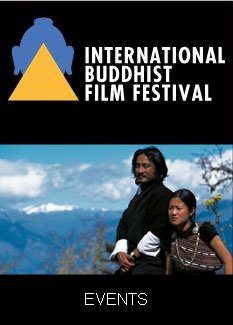 May 7-17 sees the International Buddhist Film Festival (IBFF) festival opening in London. During a ten day run at the Barbican Centre they'll show forty-six films from eighteen nations, including dramatic features, comedies, documentaries and animated works, including twenty-seven UK premieres.
"This is world cinema with a Buddhist touch," said IBFF executive director Gaetano Kazuo Maida. "We reached out to filmmakers and archives on three continents to bring over a wide range of works that reflect the incredible diversity of expression and impact of Buddhist ideas today."
More on this at
www.ibff.org
.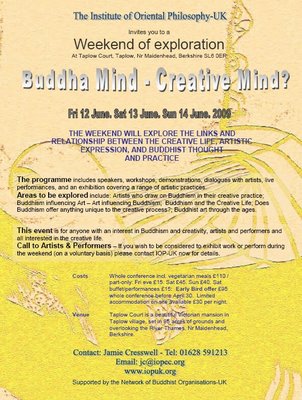 And last – but by no means least, and following directly on from the above, is a Conference entitled "Buddha Mind-Creative Mind?" organised by the 'Institute of Oriental Philosophy' in conjunction with Britain's 'Network of Buddhist Organisations', of which the FWBO is an active member.
They describe this as a "weekend of exploration" exploring links and relationships between the creative life, artistic expression, and Buddhist thought and practice. The programme includes speakers, workshops, demonstrations, dialogues with artists, live performances, and an exhibition covering a range of artistic practices.
Dates are Friday 12th ~ Sunday 14th June at Taplow Court, Taplow, nr Maidenhead, Berkshire SL6 0ER. More details and a booking form at
http://buddhamind.terapad.com
Labels: Interbuddhist