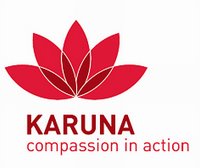 The Karuna Trust
www.karuna.org
is the FWBO's largest fundraising charity, sending well over a million pounds every year to many different social and Dhamma projects in India and elsewhere in South Asia.
Over the past few months Karuna's Trustees and staff have been working, in consultation with their partners, to develop a new five-year strategy.
This was officially unveiled this week, and announced on their website:
Karuna Strategic Plan 2009-2013
"As Karuna enters its 30th year, we celebrate our success in supporting the movement of Dalit uplift, especially in Ambedkarite western India, and in preserving precious Buddhist cultures in the Himalayas. In 2008 alone Karuna helped around 375,000 women, men and children to transform their lives.
"Such is the scale and severity of exclusion and poverty in South Asia - over 250 million people are labelled Dalit or Tribal - that we need to radically increase our impact. To this end we need to expand the scope of our work to build a larger alliance of project partners and supporters.
Our distinctive Buddhist emphasis, supporting individual transformation to energise effective social change, can then achieve a peaceful revolution".
The
full strategy
is available on Karuna's website.
Some spaces are still available for Karuna's Summer and Autumn appeals – a great way to build fundraising skills, deepen your practice, and raise LOTS of money for good causes. Check their Appeals blog here -
www.appeals.karuna.org
.