Amritadipa from India writes -
"Dear Sangha members,
With great sadness I am informing you of the death of Dharmachari Sudarshan and Dharmacharini Bodhisakhi, husband and wife, in a road accident in the early hours of the morning Indian time on Monday 6th July. They were coming by taxi from Mumbai airport after visiting their son Vikram and daughter Nagashila in USA. The driver is in hospital in a critical condition.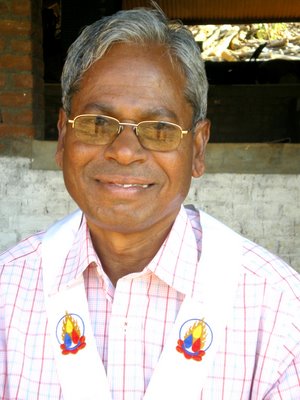 Sudarshan was one of the earliest Order members in India, he was ordained in 1979, and was aged 63. He is Public and Private Preceptor to many Order members. His Yidam is Manjughosha.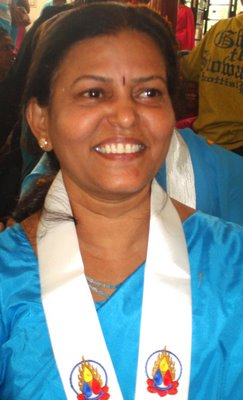 Bodhisakhi was closely involved in the Sangha since these very early days, she was ordained in January this year, and was aged 55. Her yidam is Green Tara.
They were both on the International Convention at Bodhgaya and had both visited several Centres around the world, especially Sudarshan who was often on International Conventions in the U.K, so they will be known to many Order members outside of India. Order members, mitras and friends all around India are today doing puja and meditation for Sudarshan and Bodhisakhi.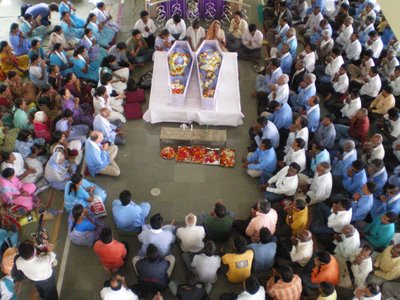 Your in the Sangha,
Amritadipa
Indian Order convening team"
The funeral took place on July 8th afternoon at TBMSG's Mahavihara Buddhist Centre in Dapodi, Pune and the nearby burning ghat.
Just after the news was received many had gathered for the annual Dharma Day celebrations, during which Lokamitra and Subhuti gave talks which are available on FreeBuddhistAudio at
www.freebuddhistaudio.com/community/local?c=Dhammachakra-Pravartan-Mahavihar
Both are both about 30 minutes long. There is also an
interview with Sudarshan
given in 2004, where he recounts his early life as a Dalit, or ex-untouchable, under the Hindu caste system. This was published in Madhyamavani.
Labels: Death, India, Order events