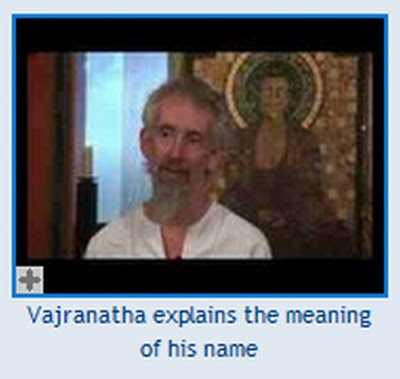 VideoSangha, the FWBO's video-sharing website, has begun hosting a new series of videos in which members of the Western Buddhist Order speak about the meaning of their names and how they use them as a path of personal practice.
The six uploaded so far were recorded on the recent Men's Order Conventions and include Order Members from a wide spectrum of the Order -
Vaddhaka
, living and working in Estonia;
Harshaprabha
, mentor to the small FWBO Sangha in Ontario, Canada;
Aryaketu
from Nagpur, in India;
Vajranatha
, living and working in Spain;
Suvannavira
, en route to Russia; and finally
Lokabandhu
from the UK. Look out for more over the next few weeks...
Others are very welcome to create and submit similar videos: the Order today consists of over 1,600 men and women each with unique and very beautiful names; each potentially a personal 'Dharma-door' and path of practice for that person.
To add a video to VideoSangha simply record yourself, upload it to YouTube, and tag it with 'FWBO' and any other relevant tags. The VideoSangha moderators will find and add it if they find it's appropriate...
Many other videos have recently been added to VideoSangha and we will be highlighting some of these over the next period: in particular, some of the many excellent talks from the recent Men's, Women's, and Combined Order Conventions held in Norfolk, UK.
Enjoy...
Labels: media, Order events, Video