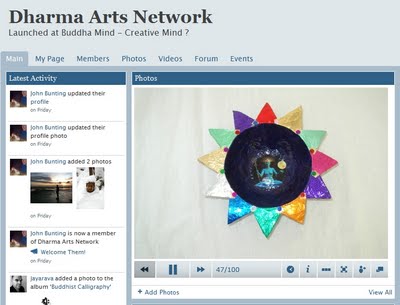 Lokabandhu writes to say -
"Calling all Buddhist artists - there's a new community-based website dedicated to featuring the work of Buddhist artists of all schools and working in all media. You are of course invited to join! The site offers simple ways of sharing your work (text/images/videos), searching for others (by location, media, or Sangha), linking to personal websites, and exchanging news and views.
"The initiative for the site came out of the inter-Buddhist 'Buddha Mind Creative Mind' conference at SGI's Taplow Court this summer in the UK, where it became apparent just how many Buddhist artists there are in the UK Buddhist community, working in so many ways.
"You'll find it at
http://dharmaarts.ning.com
. Signing up is quick, easy and free.
"Lastly just to say that of course many Buddhist artists are not likely to be very interested in the Internet. So, if you're a FAN of someone special, how about asking them if you can act as their agent, and create a page promoting their work?
"Best wishes, Lokabandhu (not an artist, but an administrator of the website)"
Labels: Arts, Interbuddhist