Amitayus, an Indian member of the Western Buddhist Order, and Chair of the FWBO/TBMSG centre in Amaravati, central India, writes to say -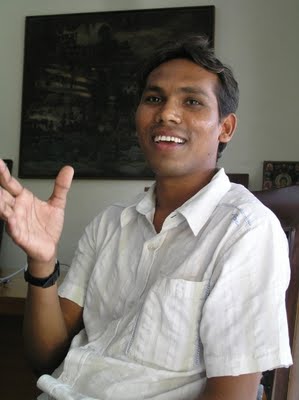 "Congratulations and Bon Voyage to Dharma Mitra Bharat Wankhade who leaves Amravati, Maharashtra, India this week for a 10 week visit to Sajokaza, Hungary, where he will meet with Roma tribal Gypsy communities.
"The visit, which has been organised by the Jai Bhim Network, an organisation dedicated to integrating marginalised Roma tribal communities into society, has invited Bharat who will represent Bahujan Hitay Amravati Boys' Hostel.
"Inspired by the message of Dr. Ambedkar for parents of marginalised communities to educate their children, in order to escape oppression and poverty, Bharat's mother and father entered him into the Bahujan Hitay Amravati Boys' Hostel at the age of ten. For the next eight years, Bharat boarded at the hostel whilst completing his education. Bharat is now studying in his 2nd year of Chartered Accountancy at The Institute of Chartered Accountants, Pune, Maharashtra.
"Commenting before his departure Bharat said "My parents are marginal farmers which is the only profession in the small village where I am from. My mother read an article about the hostel in a newspaper and once she had enrolled me into the hostel my life started to change. I feel indebted to Dh. Tejdhamma, Dh. Nagabhadra and Dh. Amitayus who guided and cherished me both through my education and more importantly my spiritual development. I met with Tibor Janos, of Jai Bhim Network in 2004 when he visited the Bahujan Hitay Amravati night study class which I was leading at the time. We have kept in touch since then and each time we've met he has invited me to Hungary. Eventually I said yes. In Hungary I hope to share my life experience with the beneficiaries of his project. I will meet students and perhaps share my knowledge of accountancy too."
"Wishing him farewell Dh. Amitayus, project leader, BH Amravati commented, "Bharat is a young man with a very compassionate heart; he is kind and generous and being with him gives people a sense of security. I wish him good health on his journey; otherwise, I am confident he will help meet the needs of many people."
"BH Amravati Boys Hostel is one of 24 hostels run by Bahujan Hitay and TBMSG and supported by Karuna Trust, the FWBO's main fundraising charity which raises and sends over £1m/year annually to many social and Dhamma projects in India. To contact the Hostel direct please
email Amitayus
.
If you would like more information about Karuna and the work they support in Asia please visit the Karuna website
www.karuna.org
- or to find out how to donate to Karuna please go to
www.karuna.org/donate
Labels: Amaravati, Hungary, India, Social projects