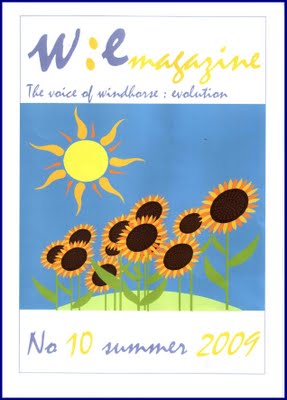 Windhorse:Evolution
is the largest and most successful of the FWBO's many Right Livelihood businesses, with a chain of some 20 Evolution shops and a massive warehouse on the outskirts of Cambridge, UK.
Over the years they've been a major source of dana to a great many FWBO and TBMSG projects around the world, often giving away £250,000 or even more in a single year. However, like most retail businesses, they've been hard-hit by the recent downturn. The following is an article from their internal magazine, reprinted by permission. It gives an authentic insight into the real-life difficulties of running an idealistically-based business - and their success in meeting what are probably their greatest-ever challenges.
Vajraketu, Windhorse's Managing Director, reports -
"The year to March 31st 2009 was in business terms the most difficult Windhorse:Evolution has faced for over twenty years. The credit crunch arrived at a time when we already faced challenges that would have been a handful even in a benign economic environment, and the result was a substantial loss for the year - the first time the business has lost money since 1984.
"Once the extent of the economic downturn became clear, in the early autumn of 2008, we launched a "survival strategy", which involved extensive cost cutting, including shutting two shops, the shelving of our plan to open more shops, and some redundancies at the Cambridge head office - the first time we have had to make anyone redundant, and not a happy landmark. Those, and other measures too numerous to mention, have enabled us to cut about 5%, or £300,000, from our projected expenses for this financial year.
At the same time, both the wholesale and retail sides of the business have had to focus on how best to adapt and compete in a depressed market.
"So far both have performed better than the sales forecasts we made for them in January, and if this continues until Christmas then the business could break-even this year (we were previously expecting a substantial loss). Breaking-even may not sound like much, but in the circumstances we are dealing with it would be a considerable achievement. However I must stress that with so much of our annual sales concentrated in the September-December period, and with the economic environment so uncertain, we cannot assume that the better-than-expected sales performance of recent months will necessarily continue.
"There is no guarantee that we will survive the current recession. I have been impressed with the amount of change and adaptation we have effected in the past year or so, and with the efforts and plans of both the wholesale and retail teams to maximise sales, but we must acknowledge that there are some things that are not in our control and we could probably not survive a deep and prolonged recession.
"While much of our energy is currently concentrated on survival, we have not lost sight of the longer-term vision of an ethical business run along broadly Buddhist lines, and the need to develop that in the light of changing circumstances. There are a great many things we could do in developing and promoting our approach to ethical trade, and to the environment, that are not getting as much attention from us as they would if times were easier. There is also the need to grow sales so that we can again generate profits sufficient to enable us to give away money to Buddhist projects and to social and educational projects in the communities where our products are made, and to support those who work in the business to an adequate standard now and in the future".
Latest news just in from Windhorse indicates that they seem to have survived the worst of the recession and are turning their minds from survival to considering more broadly what type of business they wish to be in the future. Sadhu Windhorse!
More details, including their Ethical Trading policy, are on their website
www.windhorse.biz
. To learn more about the 'Windhorse story', we recommend '
Transforming Work: An Experiment in Right Livelihood
', by Padmasuri.
Labels: Cambridge, Right Livelihood, Windhorse