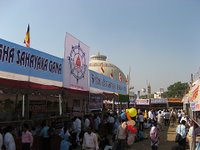 The Dhammakranti team recently took time out from working on preparations for their big retreat in Bodh Gaya to attend the annual celebrations in Nagpur of Dr. Ambedkar's conversion to Buddhism in October 1956. This year was the 51st anniversary of the great conversion ceremony, and they organized the biggest stall ever to be seen at the Dikshabhumi (the 'ground of conversion') in Nagpur.
All the major TBMSG projects in Nagpur participated in the event – Dhammakranti itself, the Samata Mahila Society (a women's project running a hostel for 80 girls as well as thirteen community centres in the Nagpur slums), Triratna Pustakalya (a TBMSG-run bookshop in central Nagpur), TBMSG Nagpur itself (general social and Dhamma work across Nagpur) and the Nagarjuna Training Institute (a major TBMSG teaching centre which runs year-long training courses for new Dhamma teachers from all over India on a beautiful campus on the outskirts of Nagpur).
Dhammakranti's manager, Nagaketu, told FWBO News "Thousands of people visited the stall and purchased books on Buddhism and social change. We were also able to give information to thousands more on the coming
International Dhammakranti retreat
in Buddha Gaya and on the next training course on Buddhism and social work, which we are running at Nagaloka. This was the biggest stall organized by anybody ever in the history of the Dikshabhumi!"
Click here for further information on the
Nagarjuna Training Institute
.
Readers interested in the thought of Dr. Ambedkar are invited to read a selection of his
quotations
or his classic work,
Annihilation of Caste
. His Buddhist classic '
The Buddha and his Dhamma
', published posthumously, is also available on-line.
Labels: Ambedkar, Dhammakranti, Dharmaduta, India, Nagpur