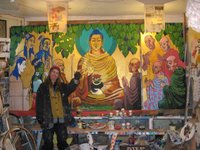 Readers of FWBO News will know the LBC recently suffered a major flood in its basement on the eve of its 30th anniversary.
Very shortly before that, they had welcomed Sangharakahita, who on November 8th had unveiled a unveiled a major new shrine painting by Aloka to celebrate the opening of
Breathing Space
, a third shrine room at the FWBO's
London Buddhist Centre
.
As part of the opening and unveiling ceremonies, Sangharakahita was interviewed by Maitreyabandhu about his time at the LBC, and a video of this and the unveiling itself can be found on the 'talks' section of the
LBC website
.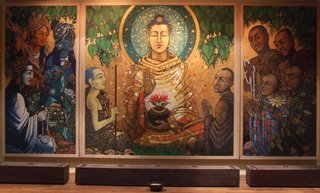 The beautiful triptych painting of the Buddha, his immediate disciples, and the Arya Sangha, includes figures from the Refuge Tree of the Western Buddhist Order.
It is designed to be closable to allow the space to be used for MBCT courses as part of the LBC's new Breathing Space project.
The two photographs show Aloka, the painter, at work in his studio in Norwich, and the finished painting as installed in the LBC.
Labels: Arts, LBC, Sangharakshita