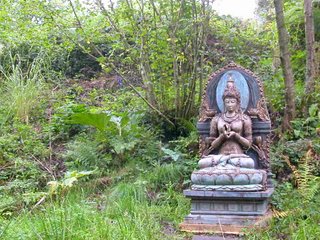 This week's featured website was created by Sagaravajra, an Order Member from Bristol UK. It is dedicated to Prajna-Paramita, a beautiful female Buddha figure embodying the qualities of the Perfection of Wisdom.
More specifically, his site is devoted to the 'Sanctuary' he has created to her.
He writes -
"The Prajnaparamita sanctuary is the culmination of a personal spiritual odyssey. On my ordination into the Western Buddhist Order I received a visualisation practice of Prajnaparamita, who embodies the qualities of the Perfection of Wisdom.
"Basing my own work on a stunning Javanese rendition of her, I began working on a sculptural representation as part of my own exploration. After completing the figure, I felt the need to come into closer relation to her essence, and I was fortunate enough to be involved in founding a small contemplative community nestled in a limestone valley in Spain, the Guhyaloka vihara.
"Realising the importance of the surrounding context of the sculpture, I became interested in the idea of sacred space, and the possibility of creating a sanctuary or landscape for the sculpture to inhabit".
His dream came true, and the Sanctuary appeared, located in a remote woodland in the Blackdown Hills in Devon.
The website covers the story of his relationship with the figure, the labyrinth and mandala being created around the central shrine, the sculptures adorning the surrounding land, and a little more about Sagaravajra himself. It's no substitute for the real thing, of course – but if you're not fortunate enough to be passing Devon, it may serve as a taster… As Sagaravajra writes -
"On entering this fertile landscape populated with springs, ferns, owls, deer and archetypal sculptures, one steps into a realm of heightened significance, of metaphor and imagination".
You'll find the Sanctuary on-line at
www.geocities.com/perfection_of_wisdom_sanctuary
.
Next week's website will be 'Buddhist Pictures: Images by Visuddhimati'.
Labels: Buddhafield, Pilgrimage, UK