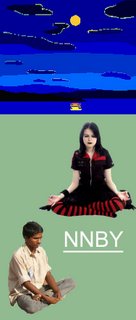 Tomorrow night, Saturday December 13th, sees an international 'Sponsored Full Moon meditation' raising funds for NNBY, India's National Network of Buddhist Youth, an autonomous project under TBMSG's 'umbrella'.
The target is for them to raise their entire annual budget of UK £4,500 in a single night - all readers of FWBO News are invited to contribute, either by meditating (and seeking sponsors for yourself!) or simply by donating.
Making a donation is very simple – there is an internet fundraising page at
www.justgiving.com/fullmoonmeditation
.
In India over 500 youth are expected to be meditating, in places as far afield as Nagpur, Delhi and Pune; with others joining them in countries around the world.
The initiative has met an enthusiastic response in New York among the FWBO Sangha there, they have created a special webpage that can accept
American donations
.
It was spreading virally through the
Facebook
network before an administrative hiccup meant the event was inadvertently deleted!
A full
introduction to NNBY
is available on their main fundraising page; they also have a
website
. Please do consider taking part or donating.
Labels: Fundraising, India, Youth