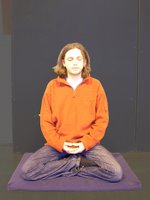 November saw a weekend gathering of 24 people from a range of FWBO Centres in the UK and beyond. They had met in Birmingham UK to explore the topic "How can we Inspire more Young People with the Dharma?".
The meeting had been called because of what can only be described as the aging of the Order.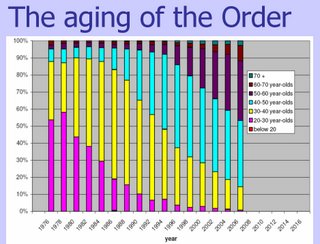 As the chart on the right makes clear, in the 1970s, when the Order was first founded, over half its members were in their 20s (the purple bars to the left of the chart). Although the Order has grown enormously over the intervening 40 years, both 20- and 30-year-old Order Members are now almost entirely extinct! (30-year-olds being represented by the yellow bars)
If we follow a trend of 'like-attracts-like' it's hard to see how the FWBO (as a Sangha) will do other than grow older and older – and older. Hence this weekend. Interestingly, despite Buddhism's positive reputation, this seems to be a problem across the whole Buddhist world, not just with us - the
NBO
(the UK's main inter-Buddhist forum) is dedicating it's next AGM conference to the same theme.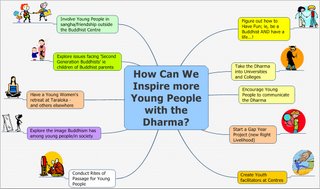 Over the course of the weekend the participants – who ranged in age from 17-60 - generated a rich collection of ideas for how we might move forwards.
A summary is available on
FWBO Resources
; they're summarised in the mindmap...
Two talks from the weekend are available on the Community section of
Free Buddhist Audio
– one actually being three short talks, two highly autobiographical.
Lindsay's, the third, was especially clear and practical, giving a three-point plan for how FWBO Centres could inspire more young people with the Dharma. She is currently living and working at Taraloka Retreat Centre. Her's is available
here
.
Also, Munisha used the opportunity to conduct video interviews with many of the younger people present, they were asked to answer in just one or two minutes one or another of the most popular (and tricky!) questions that Buddhists get asked again and again. They're available on ClearVision's excellent '
VideoSangha
' site.
A
Facebook group
has been created, for any and all younger people who are Buddhists or are exploring Buddhism in the FWBO (Friends of the Western Buddhist Order). It's a forum to get to know each other, discuss ideas and advertise events and retreats.
What comes next? There's no current plans for any big 'central' initiatives, we'd welcome comments and ideas – just leave a comment here or write to FWBO News.
Postscript
:
Other Western Buddhist groups are also looking at ways to involve more young people:
* Shambala have a special website
http://www.youth.shambhala.info/
, an annual Buddhist Youth Festival (focussing on the three themes of Discussion, Art, and Socialising); plus a 'Vajra Dawn' study programme for youth.
* Plum Village have a youth project called "Wake Up", subtitled "Young Buddhists and non-Buddhists for a Healthy and Compassionate Society" – see
http://www.wkup.org/
.
* Soka Gakkai are reported to have a thriving youth wing but we have no information on it.
* In Germany there's a BuddhaTeens website, in German - see
http://www.buddhateens.de/
* In Australia there's a Tibetan initiative "Loving Kindness Peaceful Youth" (LKPY) at
http://www.lkpy.org/
* Books about/by/for Buddhist Youth have been published, especially 'Blue Jean Buddha', 'Buddha's Apprentices', and 'Dharma Punk'.
Labels: Education, Free Buddhist Audio, FWBO, FWBO Development Team, Video, Youth