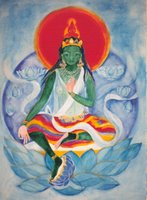 This week's featured website on FWBO News is Buddhist Pictures,
http://www.buddhist-pics.com/
. It's the showcase for artwork created by Visuddhimati, Chairwoman of the FWBO's North London Buddhist Centre.
The site includes several collections of beautiful and evocative female Buddhist figures –
Tara
, the '
Prajnas
' (the consorts of the Five-Buddha Mandala);
Mamaki
;
Dakinis
; and
Prajnaparamita
.
There's finished work and work-in-progress - which Visuddhimati calls 'Buddha Jottings'. Among these is the enigmatic African Tara, drawn in 1999, of which she writes "the idea for an African Tara hinted at in the above sketch has yet to work its way into a more developed painting..."
Alongside Visuddhimati's Buddhist images there's more personal work – the 'Bestiary' and 'Handmade Books'. Of these she writes "To fully appreciate these works the viewer needs to hold them and carefully turn the pages of the exquisite papers. What lies within is gradually revealed. That may include carefully constructed sculptural elements. The time it takes to discover the contents is part of the experience of the work, as is touching and enjoying the texture of each page. There is an inherent contradiction in engaging with this work in glimpsing it on your computer screen!"
Finally, there's links to a Commissions page and places to buy or download her work – ClearVision have a special page for this at
www.clear-vision.org/Pictures/Visuddhimati.aspx
Next week will feature Red Noses Unlimited – Jayacitta's exploration of the world of the clown – a being who "steps into the world afresh"…