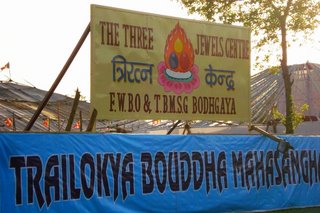 Nissoka, a British Order Member who has for many years worked to develop the FWBO/TBMSG's activities in Bodh Gaya, sends us this report -
"Last month was an historic moment in the growth of our movement, and a historic moment for our team working on the project in Bodhgaya. 500 Order Members came together for our first International Convention in India, and it was held on our land in Bodhgaya. This was followed by a Dhammakranti retreat for 300 friends, mitras and order members.
"Bhante, despite his strong love of India, couldn't come physically but he graced the event in style by sending us a video, in the middle of which he revealed his new name for our land and work there. With an impish touch of humour, he recorded the video, and had it sent to the Convention, with strict instructions not to let anyone see it until the day of its launch.
"So it was with great joy and a sense of going into the unknown, we sat inside a big Marquee watching him on a big screen. It's great how technology can bring him to an event without him coming! I definitely felt his presence was there. When he released the name at the end I just felt waves of delight, devotion and love towards him for giving such a simple yet true name........The Three Jewels Centre!!
"There was not one person in our community who didn't have a big wide eyed smile as we celebrated – it was like we'd won the world cup or something ! !
"At the heart of life at the Three Jewels Centre MUST be a living spiritual community, who live in accordance with and represent our ideals. With a strong community we can connect with others who come here to meet the Buddha.
"The Sangha must live in Bodhgaya. We don't need fancy buildings, which can be just empty symbolic follies, token shrines and market places: we need the real community of Sangha. We need to represent our part of the Buddhist Tradition, helping all visitors and Sangha members to connect with its true significance. Faith arises upon seeing the Buddha, seeing the Buddha in his fullness, and what he taught. You cannot have faith in the Buddha if when you come here you are met by heartless big temples that have no living Communities. It is within the Sangha and the Dhamma that the Buddha comes alive, it is with those communities that his vision is realized and communicated.
"It is our responsibility as Buddhists in the 21st century to take up this flame. To live in Bodhgaya as Sangha. To serve all those who come to Bodhgaya looking for the Buddha. So many people make an effort to come, whether they are beginners who come for the first time, or veteran practitioners with new and deeper questions. We must speak up for the Buddha's vision, like Protectors of the faith. The flame cannot die in our hands. We must work hard to keep the Buddha's victory alive at Bodhgaya, keep engaged in inward and outward activity.
"All three Jewels must burn bright on our land. Those who visit must meet the Sangha... hear the Dharma… and meet the Buddha.
"The Three Jewels Symbol and name is statement of our intent. It feels so very appropriate that this simple yet deeply significant symbol blazes at our gate. It is a sign that our land is to become ablaze with all the depth and breadth of our great movement.
"May all beings be touched by the peace of the great Bo tree. Nissoka"
The Bodh Gaya team have been developing a more detailed vision for the land, and have just launched this together with an appeal for funds. You'll find both at
www.justgiving.com/bodhgayaproject
.