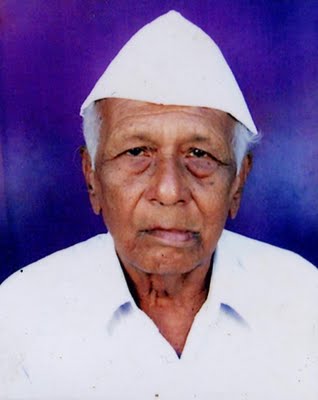 Lokamitra writes from Pune with sad news of the death of Dhammachari Buddhapriya. He died on Sunday 16th August at 4.30. p.m. in Talegaon General Hospital. His funeral was held on 17th August.
Lokamitra says -
" I have just heard the news of Buddhapriya's death and am leaving shortly for his funeral at his home near Dehu Road.
"Buddhapriya was one of the first to be ordained by Sangharakshita in India, on 1st June 1979, at Sinhagad Fort and was given his name because of his obvious devotion to the Buddha. He was extremely loyal to Bhante from the word go.
"He was a head master but left his job to work for us with no security in those days. Without him we would not have got the land for Bhaja retreat centre nor our land in Buddha Gaya. At both places he spent months, if not more, living in the most primitive conditions. Buddha Gaya at that time was infested with dacoits and buying land was one of the most dangerous things one could be involved in. He had to be in hiding at times for fear of his life.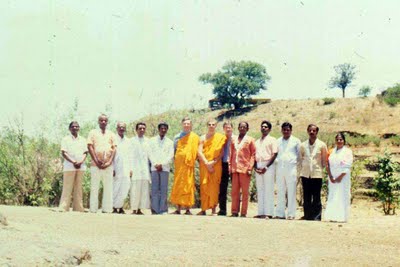 "He had a heart attack a few years ago, and went to the hospital by bus, standing for some of the way! Last night or this morning he had another heart attack and did not survive. Buddhapriya was born in February 1930, so this year was his 80th year.
"We have lost someone who made a very special contribution to the movement through both the way he lived, and what he did.
"With love,
Lokamitra"
A 'punyanumodan' or memorial service will be held near where he lived at Chincholi, Dehu Road on 23rd August Sunday at 10.30.
Part I of Buddhapriya's life story is published on
FWBO Features
, and you'll find many mentions of him in 'Jai Bhim', Nagabodhi's excellent account of the 'Dhamma Revolution' - now available on
Google Books
. The second photogaph shows Buddhapriya and his companions on the day of their ordination in 1979, at Sinhagad Fort, near Bhaja.
Labels: Death, India, Order events