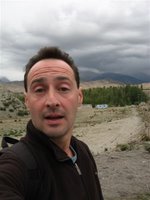 The ninth instalment of Rijumati's round-the-world travels are posted today on FWBO Features, covering portions of his time in America and Mexico.
He begins by saying "What unexpected adventures assail the lone world traveler!"
There's love, big road trips, vivid portraits of the total inadequacy experienced by a carless traveller in America, visa problems, cheap and soulless Texas motels, the wonder of Mexican art and civilisation, the kindness of strangers, and far more.
Click to read more… You'll find them at
Rijumati_travels_IX_america_mexico
.
Parts 1-8 cover his travels from the UK – which he left just over a year ago – by sea to Sri Lanka, to India, Nepal, Russia, Central Asia, Japan, and more. Also available on
FWBO Features
.
Labels: Mexico, Order events, USA